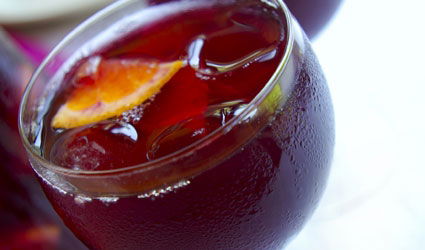 NEW European Parliament wine labelling rules mean that only sangria made in Spain and Portugal will be allowed to be sold under that name.
Companies in other countries wanting to sell similar products now have a year to change the names to 'aromatised wine-based drink' when labelling them.
They will have to clearly label where their variety of the drink is made.
The same rules apply to 'sangria blanca', the white wine version, also known as 'clarea'. The name 'sangria', comes from 'sangre' meaning 'blood', because of its colours.   
The rule changes have been warmly welcomed by Spain's Wine Federation (FEV).
Sangria, very popular with Spaniards and tourists alike, is normally made with wine, chopped fruit, especially orange and lemons, and sweetener. Spirits such as brandy can also be added, but for some this would make it a 'zurra'.
However, there is no standard recipe and sangria can be made to taste. Lemonade or soda is often added to make the drink lighter and in Cataluña, a variety is made with cava.
The fruit is cut into thin slices or small cubes then mixed in with the wine, sweetener and, if used, the spirit. After several hours to allow for the fruit flavours to blend with the rest of the ingredients, the ice and any last-minute ingredients are added. It is frequently served in restaurants in one-litre pitchers for families to enjoy with their meal.