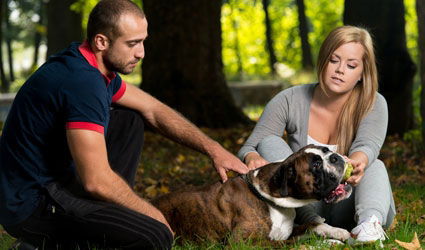 DOGS and cats can be emotional creatures, and that means they can get jealous if their owners get a new partner.
Both species are creatures of routine and a new partner can cause disruptions in this, causing stress, making it important to take care when bringing as new person into their lives.
Signs of jealous behaviour to watch out for in dogs include jumping up, barking and nipping.  Perhaps another more obvious sign is when your pet dog tries to get in between you and your partner when sitting on the sofa.
Cats being cats their signs of jealousy are different. They tend to sulk, hide or go to the loo in inappropriate places.
For people planning to introduce their pet to their new partner consider meeting your date while out on a walk with your dog.  That means your new partner meets your dog on neutral territory, and your dog will feel less anxious.
Before you introduce your date to your pet, tell them to avoid eye contact or interaction with the animal, especially if they are coming into your home for the first time as this can be stressful for both dogs and cats. When your pet is ready, he or she will approach your date.
If you are entertaining your guest at home for the first time, avoid shutting your dog or cat away. The animal will associate the anxiety of being away from you with your new partner.  It is important to give the animal in question something to do and keep it occupied when introducing a date. So toys can be helpful in making sure they do not get too bored or stressed.