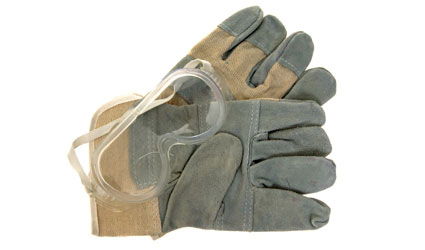 1)  Always wear a face mask or at least enclosed goggles. Chippings do fly occasionally.
2)  Wear strong gloves and a long sleeved top to avoid scratches when you pick up and feed material into the machine. Especially prickly cuttings from bougainvilleas etc.
3)  If your machine is noisy wear ear muffs or plugs to avoid damage.
4)  Don't shred palm leaves, cacti and other very fibrous prunings as the long stringy fibres tangle themselves around the centre of the blades and jam up the machine .
5)  Always disconnect the machine from the mains when dismantling to remove a blockage.
6)  When doing the winter clean up, separate the prunings into three piles
Large pieces of woody prunings that can be cut up for firewood rather than overloading the shredder. Check the maximum diameter recommended by the manufacturer in the instruction book.
Small and medium diameter material e.g. greener softer prunings from shrubs, herbs  etc.
Use larger longer prunings from bougainvilleas, lantanas  etc to push  the lighter material down to the blades.
7)  We find it best to shred the day we prune. Even lantana cuttings harden up overnight and make shredding harder work than it needs to be. Hard material also creates greater noise!
8)  Always switch off and take out the extension lead plug when you finish for the day. Then dismantle the machine to clean and oil the blade. Also wipe out the feed chute.
9)  Store the shredder in the garage or under a tree well covered with two strong waterproof sacks.
10) If your machine has plastic flaps at the top of the feed tube, replace these if they crack or pieces break off.
11) Check the condition of the electric lead and plugs on a regular basis and replace if the cable chaffs or looks loose where it enters the plug.
12) If you have a petrol powered machine follow manufacturer's instructions carefully re maintenance needs.
In the next edition we will discuss how to best mix turn your shredded material into good compost for use in lightening and enriching your soils. So in the meantime make as much progress as possible with the winter cutback and keep the shreddings piled up. They will come to no harm.
© Dick Handscombe www.gardenspain.com January 2014.