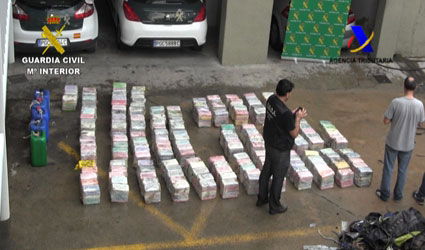 FIVE people were arrested in Malaga province in a Guardia Civil operation which resulted in 900 kilos of cocaine being seized.
The detainees are alleged members of a gang operating between Malaga and Valencia dedicated to drug trafficking and money laundering.
The cocaine was found inside 37 backpacks which had been anchored at sea off the coast of Valencia using a sophisticated float and location system so they could later be collected. The system also prevented them from sinking or floating away.
Guardia Civil and Tax Officers also seized €72,000 in cash, jewellery, three vehicles, a boat and computer and telephone equipment.
The operation was launched last May when the Guardia Civil learned several members of the organisation transported a boat from Malaga to Valencia, which they later left in dry docks and began planning how they would collect a shipment of cocaine. The drugs were destined for the Costa del Sol, but arrived in Valencia, where the gang rented an apartment. They were caught at sea at night, in a boat which they were using to collect the cocaine from the spot where it had been left.