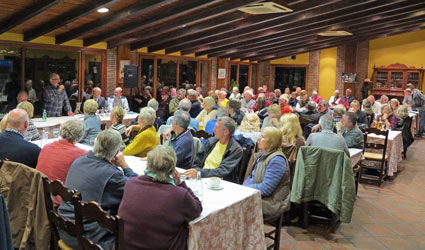 OWNERS of 'illegal' homes in the Axarquia have decided to take their case to the European Court of Human Rights in a bid to save their properties.
The members of Save Our Homes in Axarquia (SOHA) resolved to place greater emphasis on legal action given the lack of success that protesting and direct dialogue had achieved.
Philip Smalley, Chairman of SOHA, said: "After seven years of fighting for our rights the problem seems to be getting worse not better."
"If the regional government (Junta de Andalucia) cannot listen to us face to face then perhaps they will listen in the courts," he added.
Now the pressure group will appoint a new fundraising chief in order to build a fighting fund big enough to take them to Strasbourg.
Their resolution was taken during the SOHA annual general meeting held in La Viñuela.
Centrepiece of the meeting was a speech by lawyer Gerardo Vazquez, who discussed the options for protecting their rights through the legal system.
The Junta has declared many homes illegal and revoked licenses given by local town halls, leaving many homeowners, who bought their homes in good faith, facing the prospect of demolition orders.