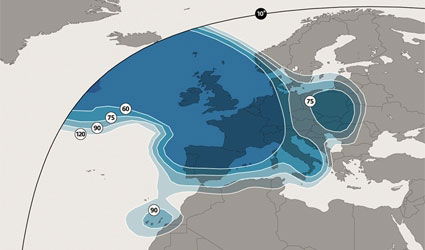 THE long wait is over for expat TV viewers, last night the BBC switched to the new satellite.
The BBC issued an official announcement stating that the migration of its free to view channels to the new Astra 2E satellite would be carried out in the early hours of Thursday February 6. This will improve viewing across the UK but may have some effect on European viewers – especially in southern Spain
Astra has released a map (above) showing a footprint of expected television coverage following the move. It appears that the Costa Blanca, Mallorca and inland Spain areas will continue to receive a good quality reception. The Costa del Sol and Almeria are in a borderline zone, it is currently unclear how the move will affect these areas.
ITV and Channel 4 have not yet announced when they will migrate from Astra 1N to Astra 2E, but it is expected to be soon.
Several Sky pay channels, including Sky Sports, Sky Movies and Fox, have already been changed over to the new satellite this week; after much speculation regarding reception in Spain, some areas of the country are currently reporting improved viewing on these channels.  In eastern Europe the quality of the reception has diminished.
Once migration is completed, adjustments are still due to be made by satellite operator SES Astra, this could alter the quality of reception once more.
UPDATE: THE COSTA DEL SOL AND ALMERIA HAVE LOST BBC CHANNELS. NEW UPDATE SOON TO FOLLOW