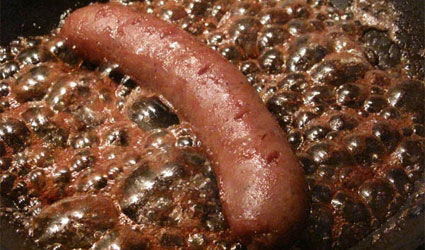 THE days of the hamburger in Barcelona may be over as more restaurants are opening offering a regional alternative to the American dish.
Butikfarra, Butifarring and Butipa are three recently-opened restaurants that offer butifarra, or Catalan sausage, with a modern twist.
Over time the common hamburger has blossomed to become the prime exhibit in gourmet hamburger restaurants worldwide.
Now that is exactly what is happening to the butifarra, as it has the same elements to succeed: tradition, versatility and a reasonable price.
The Catalan sausage seems to be a true heir of the hamburger, and can be eaten in a simple sandwich or in more elaborate and complex dishes.
This is precisely what these restaurants offer.
The chef at Butifarring, for example, is currently working on a butifarra made with sobrasada (raw cured sausage from the Balearic Islands) and brie cheese.
The possibilities are almost endless, and people can now visit the Sagrada Familia or Camp Nou while eating a vegan or fish butifarra.