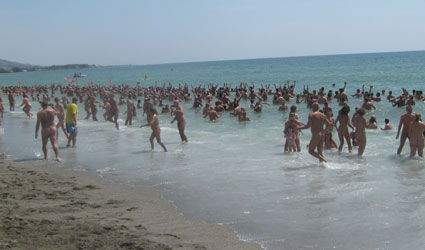 THE town hall of Vera was present last week at the tourism fair in Madrid (FITUR)2014.
During the fair, representatives from the town hall including the mayor Jose Carmelo Jorge Blanco awarded the "Sol de Oro" to Esther Eiros in recognition of her long career  as author and director of several radio programmes related to travelling experiences.
Esther is universally recognised as the "voice of tourism" in  Spain. A  programme  broadcast on April 13 last year unveiled to listeners nationwide through  the programme 'Gente Viajera' (Travelling People) the charms  and tourist attractions of the town of Vera and the Levante area.
The programme had an important impact in promoting the town, contributing to employment and well being of businesses and citizens, said the mayor.
Also during the fair the town hall presented a new promotional campaign, with special attention to naturism. With a strong presence in the town and considered the European destination of choice for naturism,Vera counts amongst its resources  one of the world's top five hotels in this tourist segment.
The town hall's decision to focus the campaign on the naturist tourist sector coincides with a commitment to break the Guinness world record set last summer. The record for the world's largest skinny dip was achieved when 729 people bathed naked at the same time at Vera.