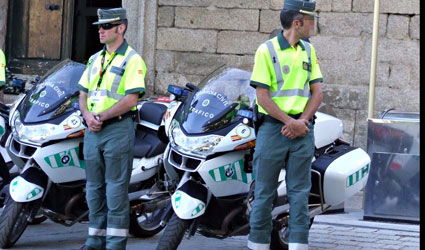 SPAIN has been told it is flouting the European maximum working hours and rest break directive for Guardia Civil officers.
The government's claim that the officers were not covered by the directive has been dismissed by the European Commission, which has effectively said that officers are just like any other worker.
The European Commission has now asked Spain to respect Civil Guards' rights to minimum rest periods and the 48-hour limit on average weekly working time, as required by the Working Time Directive.
Under current Spanish national law, certain categories of Civil Guard workers are not entitled to these rights, particularly those with command, managing, teaching and investigative functions.
Under the directive, member states may exclude managing executives or other persons with autonomous decision-taking powers from the 48-hour limit to average weekly working time and minimum rest periods.
However, this, said the commission, only applies to people with "genuine and effective autonomy over both the amount and the organisation of their working time," which it said, was not the case for the majority of the Civil Guard workers concerned.
The Spanish pointed to the fact that the directive also permits member states to exclude from the provisions on minimum rest periods activities involving the need for continuity of service or requiring a permanent presence in order to protect property and persons.
That, the Spanish government said, clearly gave an exclusion to on-duty Guardia Civil over rest periods and maximum working weeks.
But the commission decided that the directive only gives this exclusion if the workers concerned are given time off in lieu, which Spanish law does not guarantee.
In its report the commission said: "As a result, the Spanish Civil Guard workers affected are vulnerable to working excessive hours without adequate rest periods."
The commission report takes the form of a 'reasoned opinion' under EU infringement procedures. Spain now has two months to notify the commission of the measures taken to bring national legislation in line with EU law.  If no satisfactory response comes the commission may decide to refer Spain to the EU's Court of Justice.