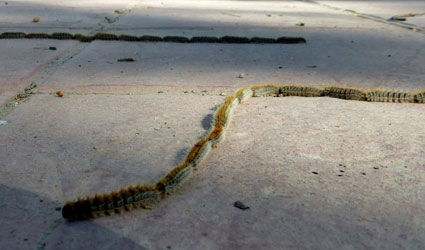 PEOPLE living close to pine forests or with pine trees on their property need to be aware of the processionary caterpillar's which will soon be on the move again.
The pine processionary is often seen as a pest in coniferous forests. It is controlled to some extent by predators, parasites and viruses which attack the moth at different stages of its life-cycle. The life cycle is normally annual but may extend over two years.
Moths lay their eggs high on pine trees. After hatching, the larvae eat pine needles building white silken. Any time from February to April, depending on weather conditions, the caterpillars are fully grown and ready to leave their nests and move down the tree in their characteristic procession. It is during this procession that people need to be cautious, particularly pet owners who should keep dogs away from the caterpillars. The hairs of the caterpillar larvae cause extreme irritation to the skin. They can also eject hairs when threatened or stressed which then penetrate and irritate all areas of exposed skin nearby and allergic reactions may follow in susceptible individuals and particularly in dogs.
It is easy to detect that a dog has been poisoned as it has a powerful salivation and heavy swelling of the dog's tongue and veterinary treatment is immediately required.
On the pine trees it is common to see the cocoons hanging down, so avoid walking your dog in areas where there are infected pine trees and keep children away.