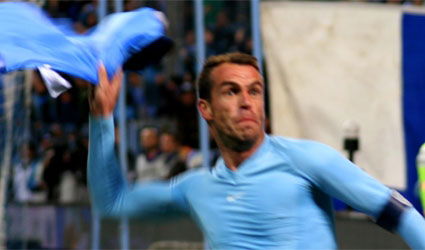 Our regional derby had everything: goals, good game play and of course an important home win. Bernd Schuster's men returned to winning ways against a strong Seville who turned the match around in the second half, following an impressive performance by Málaga during the first 45 minutes. Two goals from Duda and one from Samu, ensured the three points remained at La Rosaleda.
The match kicked off with a good level of intensity, as is the norm in a derby between the 'Malaguistas' and 'Sevillistas'.  Both teams got off to a strong start, although neither side created any real goal chances.  As time went on, Málaga began to feel more comfortable on the pitch, taking the initiative and coming up with an early goal opportunity in minute 19 with a shot from Antunes that hit the post.  Sevilla's Reyes came close to a goal soon after, but Caballero prevented any change to the score board.
 
Málaga's best moments of the match started in the 29th minute.  Duda was brought down in the area and Málaga were awarded a penalty.  It was Duda himself that took the shot and put the Blue and Whites 1-0 up.  The locals were dominating play and were superior over Unai Emery's team.
 
At half-time the 'Malaguistas' were in the lead by 1-0, following an impressive first half by Bernd Schuster's men.  New signing Amrabat made his debut in tonight's starting-11.
 
Everything changed in the second half.  In minute 48 a long ball from Bacca found the net, putting Sevilla on an equal footing with the Blue and Whites.  Málaga struggled to regain their form from the first half, and in minute 62 Alberto Moreno came close to a second goal for Sevilla, but the ball narrowly missed the target.
 
In minute 65, Fazio took advantage of a set piece and headed the ball into the net, which was impossible for Willy Caballero to save.  The locals now had an uphill struggle for the remainder of the match.
 
Málaga knew they had to give it their all to turn the game around.  Tissone tried his luck with two shots at goal from outside the penalty area, before Schuster made some changes to the team, bringing on Pablo Pérez and El Hamdaoui.
 
Málaga CF began to take the reins of the game following the substitutions.  A good performance by Amrabat opened up a space on the left for Duda.  The Portuguese-born player had a shot at goal, but the ball hit the far post.  However Samu took control and launched a powerful ball straight into the back of Beto's net.  The score board was again level with just ten minutes left to determine the winner of the three points.
 
Spurred on by an amazing atmosphere at La Rosaleda, the Blue and Whites were determined to score the winning goal.  A strong shot from Antunes inside the goal area was deflected by Beto.  A good display from the Blue and Whites led to a shot from Pablo Pérez on the right wing, but it was Duda who curled the ball past Beto into the back of the net, to put Málaga 3-2 up.  The crowd at La Rosaleda went wild.
 
The final minutes of the game got somewhat heated, leading to coach Schuster being sent off.
 
Today´s match at La Rosaleda (Malaga CF STADIUM) was a very important win for Málaga.
Match stats
MÁLAGA CF: Willy, Jesús Gámez, Flávio, Sergio Sánchez, Antunes, Camacho, Tissone (Pablo Pérez, min. 70), Eliseu (Samuel, min. 63), Duda, Amrabat and Juanmi (El Hamdaoui, min, 70).
SEVILLA FC: Beto, Fazio, F. Navarro, Bacca, Rakitic, Iborra, Alberto, Reyes (Gameiro, min. 46), Vitolo (Cheryshev, min. 73), Pareja and Coke (Diogo, min.46).
GOALS:
1-0: Duda (min. 30) (p.).
1-1: Bacca (min. 48).
1-2: Fazio (min. 65).
2-2: Samu (min. 76).
3-2: Duda (min. 82).
REFEREE: Castilla y León-born González González.  Yellow cards were awarded to Coke (min. 29), Vitolo (min. 35), Eliseu (min. 45), Iborra (min. 74), Duda (min. 82) and Sergio Sánchez (min. 90).
INFORMATION: 22nd BBVA League game of the season held at La Rosaleda in front of 23,893 fans.  A minute's silence was held before kick off, in remembrance of former Spain coach, Luis Aragonés and ex San Félix president, José León.