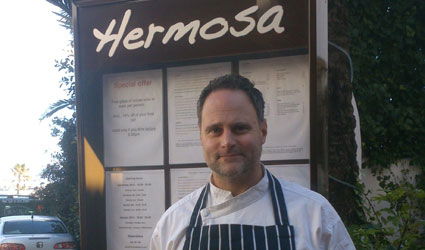 MEET Alex and Mel Nicoll, a couple who after years in the business know exactly what their clients want and what they expect from themselves: An intimate, personal dining experience with top-notch food and warm, unpretentious service.
Alex's 'former' life in Los Angeles, California gave him a taste of how restaurants can meld casual, friendly atmosphere and exceptional food into one. This is the heart of Hermosa Bistro, where providing a personal touch is of utmost importance.
Alex and Mel, who both grew up in the catering business, have been in Spain for eight years and have been with Hermosa from the beginning. After six years as head chef, Alex loves fashioning his own menus and heading up a professional, efficient operation.
Alex described how southern California and southern Spain share the same climate and vegetation, making Hermosa Bistro in Cabopino perfectly situated. 'California' isn't a style of cooking; it's a philosophy. The ethos values sustainable, fresh produce ("We know the farms, the animals," Alex stated). Spice mixes and rubs, whether Szechuan, Indian, Baja-Mexican or Afghan saffron-tinted, are handmade fresh. The excellence of the food comes thanks to chefs Rob Millikin, Charles Winter, and Alex Reed who take great pride in what they do.
Hermosa is the Nicolls' dream come true, the dream where they said, "One day we'll buy a restaurant on the beach." This competent, adventurous couple has stuck it out with an engaging, successful restaurant during an economic crisis when others have closed their doors.
What does Hermosa Bistro want? "We want our guests to enjoy their evening, to have a good time," said Mel. "We provide what we ourselves want when we go out." With professional chefs having become clients themselves (as is the case with Hermosa), foodies will feel at home here.
Hearing descriptions of the pork cheeks and the Madras salmon will have anyone asking, "When can I check it out?" Hermosa's winter hours (Jan-Feb) are Thursdays-Sundays, 6:30 pm to 10:30 pm. For specials and more information, see their Facebook page or the Hermosa website: www.hermosabistro.com. Restaurant app forthcoming on iTunes!
Hermosa Bistro
Local 1A, Puerto Cabopino
29604 Marbella
952837483