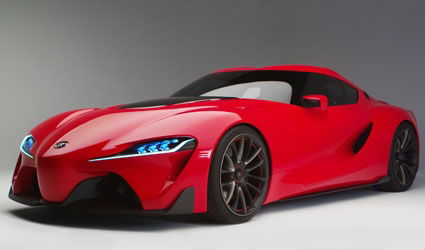 TOYOTA'S brand new sports car concept leapt from videogame screens to the stage during the North American International Auto Show.
First devised by Toyota's Calty Design Research in the Sony PlayStation Gran Turismo game environment, the new FT-1 was unveiled during the show held in Detroit (US).
The name FT-1 stands for 'Future Toyota,' and the number '1' represents what their designers consider the ultimate expression of a Toyota coupe design.
The project started nearly two years ago with the hard work of the Calty design team. "The FT-1 is a dream-project for a designer and car enthusiast like myself," said Alex Shen, Calty's Studio Chief Designer.
Inlets, ducting, and vents are features of the exterior design that help reinforce its track–ready nature with elements of purposeful airflow management. 
At higher speeds a retractable rear wing deploys and tilts forward to create additional downforce. 
The front engine rear-wheel drive configuration locates the cockpit far rearward within the wheelbase to improve weight distribution. 
This design element also helps create a classic sportscar proportion.
The cockpit's wraparound windshield and side glass openings are a distinct nod to the design of the Toyota 2000GT.
The interior locates the driver at the controls behind an F1 inspired steering-wheel. 
A delta-shaped display zone surrounds and integrates the driver to provide a sense of being connected to the vehicle. 
The cockpit's sense of minimalism adds to the purposefulness of the driver-focused environment with an emphasis on light weight components.
A colour heads-up display keeps the driver's attention on the road ahead, with vital information projected just above the steering wheel within the driver's line of sight.
In preparation for pitching the concept to Toyota management, Calty worked with Polyphony Digital, creators of the Gran Turismo driving simulator, to bring FT-1 to life in a virtual world.
Toyota executives were offered the opportunity to take FT-1 for a timed lap around a computer-generated Fuji Speedway.