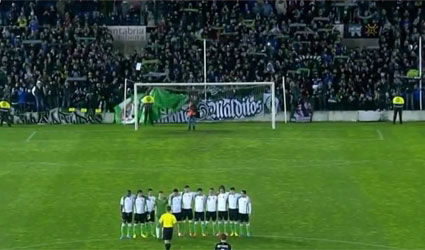 Football club Racing Santander, who staged an on-pitch strike during the quarter final of the Copa del Rey, has been fined €3,000 by the Spanish football federation and banned from playing in next year's Cup.
The team had not received any wages since September and had been threatening action if president Angel Lavin and the Board of Directors did not resign.  Members of the team were interviewed on Spanish television last week, showing their struggle to survive without an income. At least one player has had to resort to sleeping on a friend's sofa.
During the Copa del Rey quarter final against Real Sociedad, the team stood together refusing to move as a protest. The referee decided to call off the match when it became clear that the players were not going to move.
Mariano Sanz, Racing Santander's forward, said "We have given up what we like most, which is to play. We wanted to play but we couldn't let them stand on our rights. To play in the quarters was a dream for us; everything had gone so well to get there. It is a shame to end it like this, but we were clear in what we were doing."
The team had the overwhelming support of their fans who gave the squad a standing ovation as they did a lap around the pitch before going back to the dressing rooms.