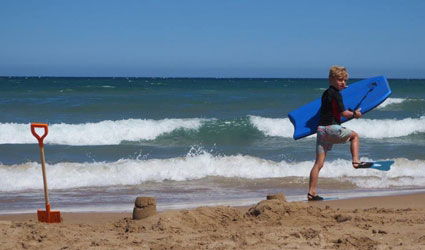 GANDIA's spectacular coastline includes the untouched 2.8 kilometres of L'Auir beach.
 "It is the jewel in the crown," declared Gandia mayor Arturo Torro during his recent visit to the Fitur tourist trade fair in Madrid.
He has ambitious plans for the 1.5 million square metre area and last year invited suggestions for its development, offering €54,000 in prizes for the best proposals.
These had to include "two or three hotel complexes" close to the beach's southern boundary.  The rules also stipulated another complex adjoining the mouth of the Xeraco River, plus single-family homes, restaurants and leisure centres.
The competition was held "for ideas only," Torro now insists. The 11 projects will be assessed by town hall experts, the Generalitat and the Polytechnic University of Valencia. 
"The winning project will be shown to the town to see what people think and whether it should go ahead or not," Torro promised in response to growing local opposition.
"This could come Gandia's Gamonal," warned socialist councillor Vicent Mascarell, referring to recent demonstrations in Burgos that succeeded in reversing a town hall development.