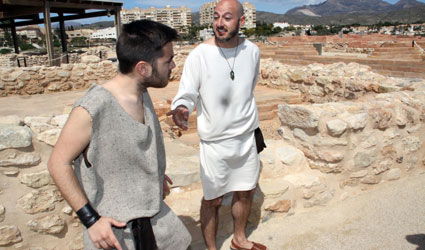 CAMPELLO confirmed that the dramatised tours of the town's Roman remains will continue this year.
Alicante city's MARQ archaeological museum and Campello town hall is again cooperating on the tours scheduled to begin at Easter. 
As they did last year, they will combine tourism and culture to put the history of the Illeta dels Banyets in a new and entertaining light. 
The deal was formalised by Luisa Pastor, president of the Alicante Diputacion , a body that fulfils roughly the same functions as a county council.
Mayor Juanjo Berenguer and the town hall's Culture, Tourism and Education councillors also met representatives from "Vive la Ñ" which is holding language courses in the town this summer.
These, too, will provide a different take on learning, as workshops, cultural visits and Campello's beaches take the place of formal classes, the organisers explained.
The camp will be housed in the Salesianos school installations, near to the beach and tram stop.  Spanish students can also attend as "hosts" who help foreign students get to know the area's language, traditions and places of interest.