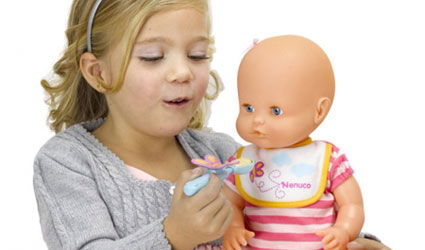 ALICANTE toy-makers Famosa have been accused of encouraging anorexia.
The UK media picked up on the manufacturers' latest doll, "Nenuco won't eat" which has a mechanism that turns its head away when offered food.
This carries a "dangerous subliminal message that will encourage girls to refuse food," British campaigners claimed.
"It encourages them to think that refusing food is normal," said Chris Leaman, policy manager at YoungMinds.
Netmums and eating disorder charity SWEDA agreed. "Promoting what is basically an anorexic doll seems unhealthy," said a SWEDA spokeswoman.
Manufacturers Famosa leapt to the doll's defence. "Nenuco dolls recreate real-life experiences between mothers and children, encouraging play and positive learning," said a Famosa spokesman at the Alicante factory. 
The €34.99 (€42) Nenuco doll represents what often happens when a mother tries to feed a baby.  "Children don't always eat what they are given and the doll demonstrates how important it is to eat properly," said Nikki Jeffery, the company's UK marketing director.