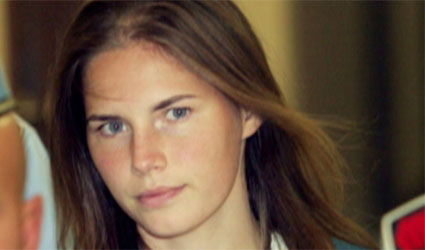 Amanda Knox and Raffaele Sollecito have been found guilty for a second time in the Italian courts of the murder of Meredith Kercher in 2007.
Amanda Knox has been sentenced to 28 years and her former boyfriend Sollecito to 25 years.  They have also been ordered to pay damages to Meredith Kercher's family. Their lawyers say that they will be making an appeal.
Miss Kercher was stabbed to death in 2007 in the flat she had been sharing with Amanda Knox in the Italian town of Perugia.  Knox and Sollecito have already been found guilty of her murder in 2009 but the verdict was overturned in 2011.  The acquittals were then overturned last year by the appeals court and the case retried.
Lyle Kercher, Meredith's brother, made a statement saying "It's hard to feel anything at the moment because we know it will go to a further appeal. No matter what the verdict was, it was never going to be a case of celebrating anything."
The new verdicts are not considered final until they have been confirmed by the higher court; it is unlikely that Amanda Knox's extradition from USA will be requested until the Court of Cassation verifies the verdict. The US will have to decide whether the case falls under their extradition treaty with Italy.
Knox issued a statement after the verdict, saying "I am frightened and saddened by this unjust verdict.
"Having been found innocent before, I expected better from the Italian justice system. There has always been a marked lack of evidence. My family and I have suffered greatly from this wrongful persecution. This has gotten out of hand."
Courts ordered that Raffaele Sollecito should have his passport and travel documents taken away.  He could not be found in the initial hours after the court decision, but was picked up by police this morning close to the Italian border with Austria and Slovenia.