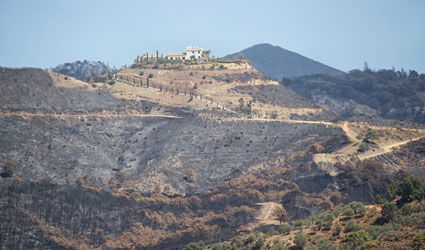 MALAGA Provincial Government has distributed 76,000 trees and ornamental plants to replant the forests destroyed by fire in August 2012.
The fire damaged 8,225 hectares across Mijas, Monda, Marbella, Alhaurin el Grande, Coin and Ojen.
This is just the first phase of an operation which will continue in a year's time with another 335,000 trees and plants.
Thanks to Provincial Government deputies and staff refusing to accept their Christmas bonuses, €99,121 was invested to create an area to grow forest species and cultivate them in an area on the Velez-Benamocarra road.
The species include pines, oaks, carobs, bushes and grasses, including rosemary.
The area which was most affected by the fire, with 40 per cent of the total area, was Ojen, and will receive 30,668 plants and trees. Most of the trees planted will be oaks.
Meanwhile, the nursery where they have been grown has also been used as a training area in gardening courses and other activities.