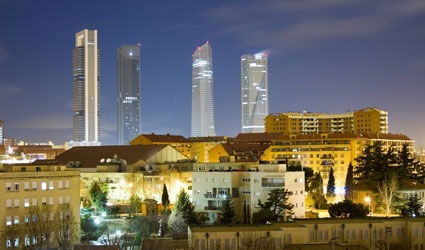 THE city of Malaga is the only municipality within Malaga province with concrete approval for the building of skyscrapers.
The plans include blueprints for the construction of properties ranging from 20 to 35 storeys along Avenida de Juan XXIII as well as in the city's Guadalmedina section.
Although technically skyscrapers, they do not approach the 50 floor skyscrapers recently proposed – and turned down- in Marbella.
The most conspicuous of the city's projected skyscrapers is to be built on the Avenida de Juan XXIII where plans exist for four separate towers rising to between 29-35 storeys. The original plan called for even more storeys which had to be reduced due to interference with air space and rights of way in relation to the Malaga international airport. Another three towers of 22 storeys each are planned in the Torre del Rio section, with another two of 30 storeys each planned for the Martiricos project near the Guadalmedina riverbed.
In comparison to other large skyscrapers in Spain, those planned for Malaga are not exceptionally tall. The Torre Espacio in Madrid, though not the tallest of the Cuatro Torres of Madrid in terms of height, has the most floors of any Spanish skyscraper with 56 floors, almost double that of those planned for Malaga. Benidorm's Grand Hotel Bali has 52 floors, while the Torre Mapfre in Barcelona has 44.
Malaga's acceptance of the plans stands in contrast to that of its neighbouring towns on the Mediterranean coast. Marbella, a fellow Costa del Sol hotspot, has rejected the idea of skyscrapers in the face of public opposition. Marbella's limits for real estate are capped at six floors on top of a ground floor. The next highest allowance within the province of Malaga is that of the town of Fuengirola, which allows up to eight storeys in certain parts.