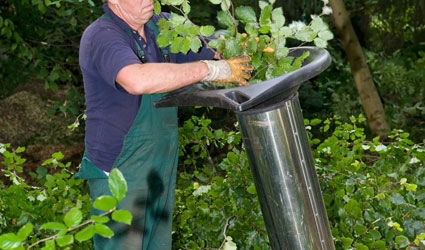 RECENTLY we discussed the important winter cutback and clean up in your garden and suggested that you shred as much of the prunings and weeds as you can. This week and next we discuss the art of shredding and in the following edition of February 13 we will look at the making of good compost which is not always easy here in Spain. In case you have never owned a shredder we start from first principles.
What does a shredder do?
At each seasonal clean up, especially the major winter clean-up, a good shredder will chop up most, if not all, prunings and weeds into easy to handle small pieces just right for the compost heap or reducing the number of sacks of garden rubbish you need to dispose of. The garden shredder is probably the most important machine for gardeners in Spain. Especially if gardening according to organic/ecological principles.
What are the benefits?
a)      No need for smoky bonfires.
b)      The shredded material is excellent for mixing with
Kitchen waste to create a balanced compost heap.
Manure and leaf mould in creating no dig beds for the vegetable garden.
Kitchen waste and manure to prepare trenches for next year's beans.
c)      The shredded material makes a good mulch for around the base of shrubs and trees.
d)     If you don't yet have a compost heap the material is easily bagged for disposal.
What are the negatives?
However although very useful the shredder has a number of potential problems.
a)      It is noisy. So don't use during siesta times or on a Sunday morning.
b)      The machine can be dangerous if not used and maintained properly.
c)      Shredding takes more time than having a bonfire, filling a skip or taking bags of winter clean up rubbish to a legal local tip.
Tips for buying a shredder
Buy  a machine that will cope with the volume of waste produced by your winter clean up.
Check that the feed tube has a good safety guard that allows easy feeding but the impossibility of putting your hand in!
Ask for a demonstration of how the machine can be dismantled to clean the blade after use or if you have a jam up when using. It should only take a few minutes.
If you know anyone with a shredder ask them for advice.
If you want to shred a long distance from the house it may be worth considering a petrol driven shredder to avoid a long electric lead.
What is the choice?
There are many different models on the market. Some are electrically operated and others petrol driven. The main variations are as follows.
1. Top or side loading. We prefer the first.
2. One or two blades – the two blade models process material quicker.
3. Height above the ground – this affects the size of container that you can put under the outlet and ease of loading without having to use a step. Always simulate how you would have to use a machine before considering buying it.
4. Ease of clearing blockages – check this with the shop. Some models have reversible blades others quick dismantling bolts. Some side loading machines take some time – not the thing you need with a large pile to shred.
6. Electrically driven machines are best for small gardens when an electric socket won't be far away but long trailing leads across large plots are not safe so it's best to opt for a petrol model.
Prices do vary from one shop to another so do check your local agricultural cooperative, tool shops and eBay before making a final decision.
In making your final selection recognise that the biggest machine is not necessarily the best , especially for the average garden.
In some areas it is possible to hire shredders. This would save an immediate investment and help you test out a manufacturer.
© Dick Handscombe www.gardenspain.com  January 2014.