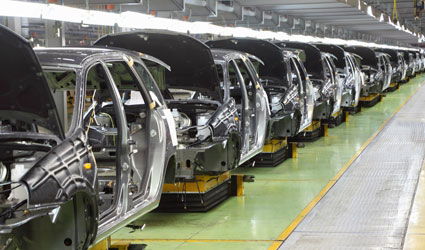 SOME 2.16 million vehicles were manufactured in Spanish factories in 2013.
This is a 9.3 per cent increase in relation to the previous year, according to the Spanish Car and Lorry Manufacturers Association (Anfac).
This growth has its origin, says Anfac, in a higher demand of Spanish cars in non-traditional markets like the United States, Algeria or Turkey.
The PIVE and PIMA Aire incentive programs have also helped, giving the sales of cars manufactured in Spain a boost of seven points.
Some 1.72 million private cars were manufactured in 2013, which is 11.69 per cent more than in 2012.
Meanwhile, the production of commercial cars increased by 6.42 per cent with a total of 408,670 units manufactured.
The manufacturers association is confident this upward tendency will become established, and estimates 2.4 million cars will be sold this year.
This will be possible thanks to the fifth phase of the PIVE plan, which was passed by the government last Friday.
The improvement of the main European markets will have an influence, as well as an increase of exports to Northern African countries, Turkey and the US among other countries.
1.87 million of the cars manufactured last year were sold outside Spain, an 8.72 per cent increase when compared to 2012.
This means Spain 87 per cent of the cars manufactured in Spain in 2013 were exported, with more than 20 per cent of these exports going to markets outside the European Union.
Exports in the automotive sector, which includes vehicles and pieces, generated almost €34 billion between January and November 2013.