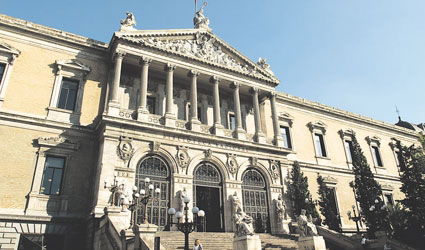 A LOST literary treasure from Spain's Golden Age of Letters has been discovered gathering dust in the National Library in Madrid.
'Mujeres y criados' (Women and Menservants) by Spanish playwright Lope de Vega (1562-1635), was written 400 years ago but its existence had been lost in the mists of time.
It was apparently put in the National Library in the late 19th century and had been lying forgotten on the shelves ever since, while Lope scholars had given up hope of ever finding it.
It was found by chance by Alejandro Garcia-Reidy, a Syracuse University professor, during an investigation into 16th- and 17th-century theatre. Garcia-Reidy is also a member of PROLOPE, a group at the Universidad Autonoma in Barcelona which researches the author.
The work, written between 1613 and 1614, is due to be published by Gredos early this year and first staged before the end of the year.
According to Garcia-Reidy, the play was bought by a theatre company in 1614, and the copy found was reportedly handwritten by Pedro de Valdes, the director of that same company, and dated 1631.
Research which has been carried out since its discovery in 2010 has proved beyond a doubt that the play was written by Lope de Vega. The author wrote many works, some of which still remain to be discovered.