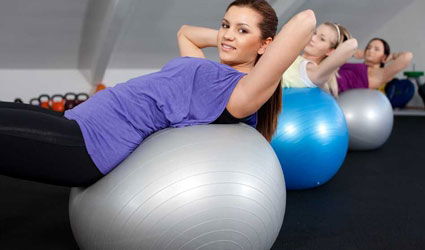 MOST women struggle to get a perfect belly. According to experts, keeping the abdomen fit is difficult but not impossible. They recommend the following exercises to help stay trim:
Bicycle: Lying on your back with your hands behind your head, bring your left knee to your right breast, at the same time lift your left shoulder and stretch your right leg. Change legs and perform this exercise 15 times.
The ball: Lie on a Pilates ball, cross your arms over your chest or place them behind your head. Contract your abs and lift your torso while pushing your belly into your hips. Perform this exercise 15 times.
Lift legs on chair: Sitting down, with both hands gripping the edge of the chair, raise your legs keeping them straight. Then bring them down to the horizontal position. Repeat this exercise 15 to 20 times.