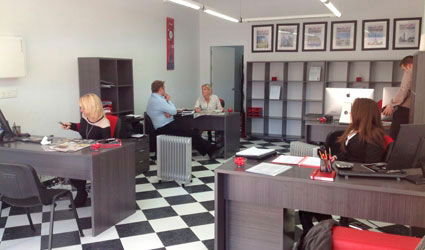 THE Euro Weekly News (EWN) is showing its commitment to the local expatriate community by opening a new office in the heart of Albox.
As part of an ambitious programme of expansion it has invested in the premises and handpicked a new team to best serve readers and advertising clients in the town and surrounding areas.
The team in Albox and Mojacar is led by familiar face Rob Denny, back in the area as Regional Manager after a spell at head office in Arroyo de la Miel, Malaga.
He will be using his local knowledge to make sure the expatriate community gets the best service possible, whether in the news reported or the attention to detail that advertising clients know and expect from the EWN.
Ruth Reily is the friendly face who will greet readers and clients who pop in to the Albox office. As office manager she will make sure the expatriate community in the town is best served by the EWN team.
Rebecca Orr will be performing the same duties in Mojacar. She takes over from 'Face of Mojacar' Fiona Rooney who has now retired after seven years of dedicated service to the EWN and the expatriate community.
In Albox, local reporter Stephen Lear will be sniffing out the news and building great relationships with our clients. Jon Salt will be working as a graphic designer to work with local advertisers to make sure their adverts are designed to exactly their specifications.
Completing the team is EWN Field Sales Executive Roxanne Hill, who will be out and about to make sure clients get the best possible service.  If you have any advertising queries just pick up the phone and give her a call.
Rob said: "These are exciting times at the EWN. I am very much looking forward to working with all members of staff to create a vibrant and dynamic relationship with our readers and clients.
"We will give 100 per cent to make sure the EWN is the best possible product and gives advertisers great value for money.
"I believe the EWN is the best read on the Costas, and it is absolutely free – now that is value!  With this extra investment we are getting even better and closer to the expatriate community.
EWN Managing Director Michel Euesden said: "This new office shows our commitment to investing in the future to give the expatriate community the best possible service.  We have assembled a great team which will help make the EWN even better at covering local news and events and give our advertising clients the benefit of their knowledge of the local area."
EWN. We Get It – Albox Gets it!
The office is located in Avenida Lepanto 13, Local bajo, Albox.
Telephone 950 633 217.
Like our facebook page Albox 
 and Mojacar