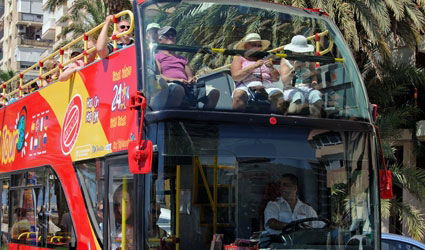 THE Costa del Sol can look forward to a prosperous year with more than 10 million tourists expected to visit in 2014.
According to the President of the Malaga-Costa del Sol Tourism Board, Elias Bendodo, this would be a 5 per cent rise on 2013.
He also said that the aim is to increase the number of Spanish visitors by 4 per cent, from the 3.7 million of last year, as they are reportedly recovering their optimism in the financial situation and returning to the usual holiday destinations. Meanwhile, more than 6.1 million foreign visitors are expected, which would contribute further to help the economy.
Within six years, Malaga city hopes to be able to offer at least 20 more hotels, hoping to attract larger numbers of tourists. This would also help to solve the problem of space in hotels when large events are held in the city.
The aim is for at least one 400-room hotel and the rest to have an average of 150 rooms.
At the FITUR International Tourism Fair in Madrid, the Malaga city councillor for Culture, Tourism and Sport, Damian Caneda, was given the award for the Best Destination from the Integral Tourism Quality Destination System.
The 11 towns of the Western Costa del Sol Community of Municipalities, will benefit from an investment of €2.2 million from now to 2016 to improve tourist areas, it was announced at FITUR, thanks to the Secretary of State for Tourism.