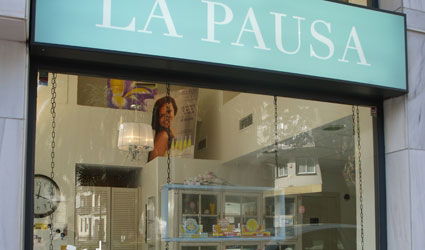 CLIENTS of La Pausa City Spa do themselves a service in visiting this quaint, stylish spa offering top-of-the-line products and services. Fabulously located in old-town Malaga, La Pausa sits on an orange tree-lined footpath next to Hotel Malaga Palacio, one parallel street off Avenida de Andalucia. Right at the entrance to Calle Larios by the Cathedral, La Pausa inspires all who enter.
The main draw is the lovely, dedicated owner, Annelien Caljouw. She has served British, German and Scandinavian clients in Spain with holistic podiatry and corporeal massage for the last six years. A qualified chiropodist in Holland and perfectly bilingual in English and Spanish, she says, "Even if I won the lottery and never had to work again, I'd still do what I do; it is my passion in life."
Annelien enthusiastically told us, "With all my treatments, I offer my clients exactly what I would want for myself." This means 1) personal investment of herself physically and mentally during treatments and 2) using the best, most natural products on the market, including Decleor (Paris) and "100 per cent Pure" (Oakland, California).
In the therapy room, the modern, very inviting massage table calls out, "You know you want to get comfortable here!" Bamboo blinds add a softening touch, shutting out visual city noise and allowing natural light to filter through during treatments.
About La Pausa's 'rituals': Eastern shiatsu massage is employed, and all-natural masks are custom-prepared for clients by Annelien on the spot. We were surprised to learn that at La Pausa, 'holistic' means that each facial massage starts with a back massage (nice!). The way rituals are conducted makes them "like a massage for the brain too," says Annelien.
One popular treatment is the 1½ hour Aromaplastie. At €65, clients choose head, hand/arm or foot as the focal point. Another is the "Aroma Expert" treatment, which in London would cost €150; La Pausa offers it for only €79.
To kick off 2014, La Pausa is offering a special 30 per cent discount on all products and services, an exceptional offer! Gift certificates available.
La Pausa City Spa
Calle Cortina del Muelle, 11
29105 Malaga
673 597 456
www.lapausacityspa.wordpress.com