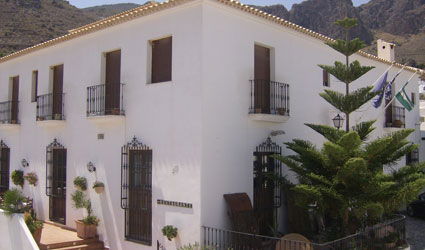 La Venta el museo hotel in Lucainena de las Torres is a great place for a getaway from it all break.
Owners Christian and Nadine have gone to great lengths to make your stay an enjoyable and memorable one.
Chrissie and Ray of the Euro Weekly News really enjoyed their recent stay and have thoroughly recommended the hotel and restaurant to all their friends. Set in one of the prettiest towns in Spain, this wonderful little hotel has 16 en suite rooms (all non smoking) and all offering guests a unique experience with an amazing attention to detail.
Some rooms have a large balcony with  hydro massage bath. Room names such as Alhambra, Africa and Plata gives the guests an idea of what they will find within. All this comes at pleasingly modest prices.
There is plenty of room to relax at Venta El Museo. Choose from the traditional tapas bar, where you can enjoy a wide selection of tapas with your drink, or the elegant Maurische bar where you can relax. The restaurant provides great food such as extremely tender ribs served with slow cooked mediterranean vegetables in a honey and mustard seasoning.This can be enjoyed with a great choice of wines such as the Spanish rioja El Coto 2012. A log fire makes for a fabulous ambiance in the bar area  in the colder months.
For the more energetic there is a gym as well as a sauna  and a nearby swimming pool is available free of charge for hotel guests during the summer months.
Alternatively, there is a terrace where guests can just sit and admire the mountain views. Lucainena was once a mining boom town with a population 10 times that of today. Now it is a quiet village of narrow streets, flowers and whitewashed houses. It sits in the Sierra Alhamilla, ideally situated for walking, cycling and generally enjoying the countryside.
Within easy distance you can explore Mini-Hollywood, Sorbas, Tabernas, Cabo de Gata and Almeria itself, for more information contact Nadine on 950 369 531.
Hotel Venta el museo C/Maestro Paco 6 Lucainena de las Torres.
Email [email protected], Facebook page Venta el museo or visit the website www.elmuseo.net