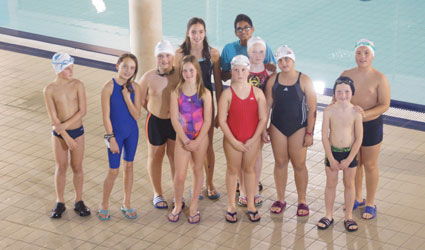 TORREVIEJA swimmers competed in the Alicante Regional League last Saturday, January 25 in the municipal pool La Nucia. This time the Benjamin and Alevin-aged swimmers swam the 50m and 100m freestyle, the 200m butterfly and the 4x100m backstroke relay. Two of the team's youngest swimmers, Felica Sasso and Konstantin Murskiy, raced for the very first time in the 50m freestyle races. Amy Connolly and Densel Fusha followed in the 100m freestyle with Amy knocking 6 seconds of her previous time. Next to follow in the girls 100m freestyle were Victoria Pigneur, Samira Lucumbi and Gabriela Pashova. Both Vicky and Samira improved on their times and were placed 6th and 7th in this event. The two older girls Skye Burns and Paula Garcia had good swims in their 100m freestyle races, with both improving on previous times and with Paula earning a regional qualifying time in the event.
For the male swimmers, Elian Del Rio Castillo gained 4th place and a new personal best and regional qualifying time in his 100m freestyle. Jacob Ruiz and Georgy Murskiy also had good swims in the 100m freestyle, with Jacob knocking 11 seconds off his best time. The gruelling 200m butterfly event followed, a test for the older swimmers. Elian came 5th in the event, knocking 42 seconds of his previous time. Meanwhile, Vicky and Paula finished within one 100th of a second of one another, both gaining regional qualifying times in this event and Vicky placing second in her age group.
To finish, the girls swam the 4x100m backstroke relay. Paula started the race followed by Skye, Samira and Vicky. The girls raced well and placed 4th place. Next weekend it is the turn of the older club members at the municipal pool in Petrer.
For more information regarding Torrevieja Swimming Club, contact Rosa on 665454126; President Felipe on 609418776; or Vicki on 669637015. Email is info@clubnataciontorrevieja.com