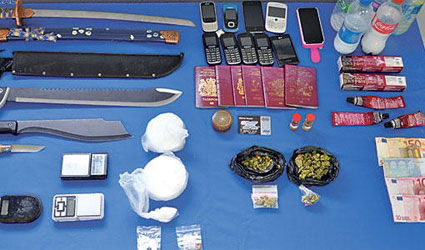 SIX members of a British drug gang have been arrested in Magaluf.
The group trafficked drugs, mainly cocaine, from the UK to Mallorca using couriers who hid the drugs inside their luggage. The drugs were sold mainly to British residents and holidaying tourists in the Magaluf area.
The Guardia Civil operation began in the summer of 2012 when two British group members were arrested, leading police to further information.  Several months after the initial arrests police also started an investigation into the gang before pooling information with the Guardia Civil in a joint operation.
The investigators say the gang members were violent, especially the gang leader, who allegedly was carrying a machete when arrested.
The court then issued a search warrant for four houses in Magaluf.
Guardia Civil officers raided four houses and made six arrests – five Britons and one Spanish – after a court  issued a search warrant.
Police found a half kilo of cocaine, and in one house scales, chemicals and other drug dealing paraphernalia during the operation on Saturday.
Police learned that the British leader had been sought for some time by UK law enforcement for having allegedly stabbed a rival in the neck with a pair of scissors. He had fled the UK and been hiding in Mallorca for four years with a false identity before being caught in the recent arrests, said police.