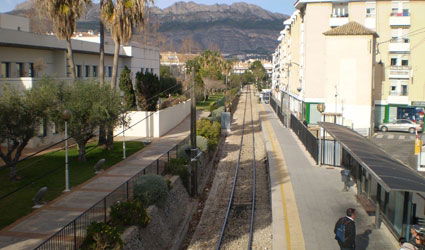 THE Benidorm to Denia Line 9 has been a poor relation until now.
Well-loved by those who use it for pleasure, business or getting to school, it is still known as "el trenet" and has yet to become a new-fangled tram.
Things are about to improve, however, as the Valencian Community's president Alberto Fabra has announced that the regional railway network, Ferrocarrils de la Generalitat (FGV) is investing €43 million in the line.
This reverses rumours – rife only 18 months ago – that the line could close owing to the huge investment needed to guarantee safety.
The €20 million modernisation of the Benidorm to Calpe section should be completed by 2017. The Calpe to Denia phase costing €23 million will be finished in 2020.
The diesel trains are to be replaced and the tracks – readied for eventual electrification – will be installed with improved safety systems.
All the line's metal bridges and viaducts – some over deep gorges – will be renovated and repaired.
A total of 733,982 passengers used Line 9 last year, principally for pleasure, leisure and tourism. 
This is a good indicator of Line 9's potential as "basic infrastructure providing tourists with modern and efficient transport," Alberto Fabra said.