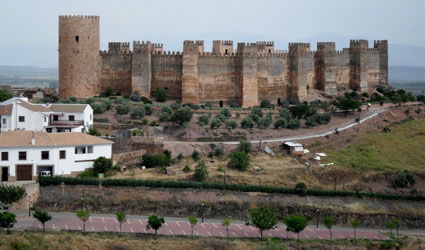 BAÑOS DE LA ENCINA is one of those unheard of gems that you occasionally come across as you travel through Spain.
Surrounded by olive groves. This small  town rises majestically above the surrounding plains. Narrow character laden streets lead up to one of the most impressive castles we have seen in Spain. With more than 5,000 registered castles in Spain, that certainly says something for this castle, which was built during the height of Moorish power in this part of the country.
It was built in 986 under the direction of the Umayyad leader Hakam 1. Later of course it was to fall in to the hands of the Christians. But unusually very little change was made to the castle structure under the new regime, leaving the castle as it stands today almost unchanged from such early times.
During most of the year storks nest in nearby church towers and drift silently across the clear blue spring skies. This town is an absolute delight to visit and spend time in. Not too far away is the better known and equally charming city of Cordoba. Cordoba originated as a Roman city on the banks of the fast flowing river Guadalquivir and later became the focal point of Muslim Spain until it fell to the Christians in 1013.
During their time in this city the Moors built an impressive mosque and developed universities in what was to become the most educated and most populated city of  its time within the known world, rivalling modern cities with a population of more than one million people.  The Christian conquest brought changes. In particular part of the mosque was replaced by a cathedral thus forming one of the most unique buildings in Western Europe.  Now known as the Mezquita this magnificent building combines the best of both worlds in what is really a mosque come cathedral. Cordoba is full of old world charm which appeals to all taste and has an Alcazar (a fortified  palace) , which in many ways is reminiscent of the world renowned Alhambra Palaces at Granada.
David's Coachtrips SL  is offering a three day excursion which takes in both these delightful locations. This is based in a 3* hotel half board with wine and water included and is selling at the brilliant price of only €135. Next date is three days February 13-15. 
 You can reserve online at www.coachtripsonline.com or by calling (0034) 966 785 910.