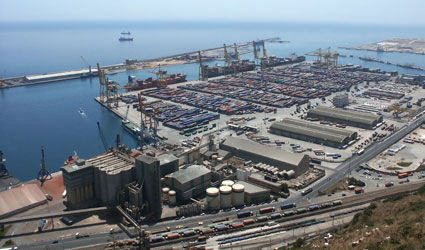 THE recovery in the Spanish service sector strengthened in December as both new orders and business activity increased at sharper rates.
That said, there were signs that the rise in new business was at least partly supported by ongoing discounting.
Meanwhile, the rate of job cuts eased, and was only marginal.
The headline seasonally adjusted Business Activity Index – which is based on a single question asking respondents to report on the actual change in business activity at their companies compared to one month ago – increased to 54.2 in December from 51.5 in November. This was the second successive reading above the 50.0 no-change mark and signalled the sharpest rise in activity since July 2007.
Commenting on the Spanish Services PMI survey data, Andrew Harker, senior economist at Markit , the financial information and services company  and author of the report said: "The latest services PMI data provide real optimism that in 2014 we could finally see the start of a meaningful economic recovery in Spain. Activity and new business each rose at rates not seen since prior to the economic crisis, although the extent to which companies are relying on discounting to support growth of orders remains a worry.
"There even look to be signs of positive movement in the labour market, with the sector coming close to seeing a stabilisation in employment in December."
Businesses interviewed for the report said there were signs of greater customer activity during the month. Transport & Storage led the overall expansion in activity, closely followed by Financial Intermediation.
New business increased for the fifth successive month in December. Moreover, the rate of expansion quickened for the third consecutive month and was the fastest in almost six-and-a-half  years.
All six monitored sectors posted an expansion of new orders.
Despite a sharp rise in new business, backlogs of work continued to fall. That said, the rate of depletion remained only marginal.
Staffing levels also continued to decrease during the month, but the rate of job cuts eased for the second month running and was the slowest since the current sequence of falling employment began in March 2008. Post & Telecommunications and Transport & Storage registered increases in staffing levels.
A number of respondents indicated that staff costs had fallen in December. However, rising energy prices at other firms meant that overall input costs were unchanged from November. This followed two months of increasing input prices.
The fastest rise in input costs was at Hotels & Restaurants, while the greatest fall was at Post & Telecommunications.
Services companies continued to lower their output prices. Some respondents indicated that selling prices had been reduced in order to encourage sales, while others mentioned competitive pressures. The rate of decline in charges was marked and the fastest in three months.
Positive sentiment was recorded again in December, with a number of companies forecasting
improving economic conditions during 2014. Although dipping from November's recent peak,
optimism was the second-highest since July 2007.