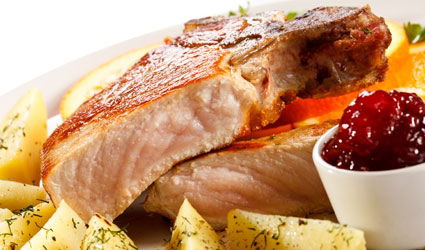 IT seems that restaurants that build their menu around a key ingredient are the latest trend in Barcelona.
Following the opening of L'eggs restaurant last summer, Pork… Boig per tu restaurant has recently opened in the Born district of the Catalan city.
With a name meaning 'Pork… Crazy about you,' the star of the dishes served in this restaurant is, needless to say, pork.
Michelin Star chef Oriol Robiera is behind this project, which aims at offering a succulent menu exclusively made of pork cuts grilled over a wood stove.
The so-called 'temple of pork' also aims at attracting wine and beer amateurs, offering a manzanilla fino sherry wine from Sanlucar de Barrameda (Cadiz), or unfiltered beer brewed in Liverpool (UK).
It also has an extensive Champagne selection, with more than 30 varieties.
Pork… Boig per tu follows the trend started by L'eggs restaurant last summer.
In this restaurant, head chef Paco Perez uses innovative techniques from the award winning molecular gastronomy restaurant el Bulli to create new dishes with eggs as the main ingredient.