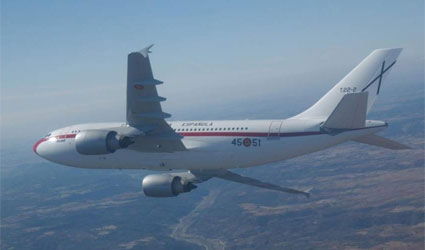 PRINCE FELIPE'S private aeroplane suffered its second breakdown in two months this weekend, causing the Prince a six hour delay.
The Airbus A-310 was carrying Prince Felipe from Santo Domingo to Honduras, when an electrical fault forced them to return to the airport.
 A warning light came on suggesting problems with the oil in one of the engines; however when mechanics investigated the problem, they found the oil was fine, it was a fault in the electrical circuit.
The Prince is visiting Honduras to attend the inauguration of the new President Juan Orlando Hernandez. Despite the delay, he was still able to attend the ceremony.
Last time the Airbus suffered an electrical fault was last November 25, when a sensor linked to the left wing flaps failed.  The Ministry of Defense are investigating the matter.
The Airbus was purchased second hand during the Aznar presidency in 2003.