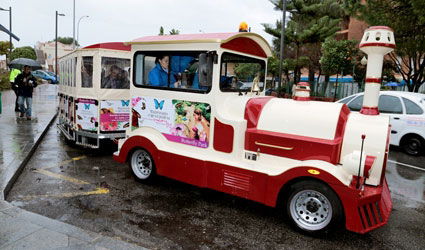 THE Tourism Councillor, Adolfo Fernandez, presented the new service provided by the Monchotren tourist train.
It leaves from the Hotel Villasol and the McDonald's roundabout opposite the Bil-Bil Castle and will travel along Avenida de Las Palmeras, to Benalmadena Pueblo, stopping at the Buddhist Stupa for 45 minutes so tourists can enjoy the attractions there. It will head to the Pueblo where passengers can visit the Pre-Colombian museum, Colomares Castle or the local streets for an hour and a half, before it returns to the hotel area. This route will be carried out every four hours from 9.15am to 1.30pm and cost €11.
He was accompanied at the presentation by the Councillor for Social Welfare, Francisco Salido, and the company manager, Ramon Martos.
The service aims to promote tourism and an interest in culture and is hoped to encourage business in Benalmadena Pueblo.
Salido and Fernandez congratulated Martos for creating business in the town. He in turn thanked the council for its support. Some €200,000 has been invested in the project.