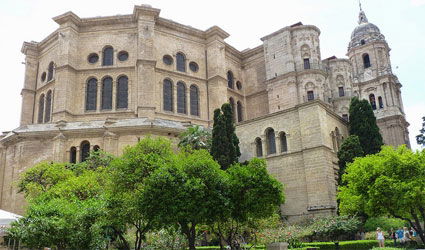 PLANS to part pedestrianise streets around Malaga Cathederal will be put into effect after Easter.
The aim of the project is to reduce traffic to six of the streets surrounding the cathedral: principally to Postigo de los Abades and leading down to plaza de la Marina. Some lanes will be left open for access by public transport and for the use of residents.
The pavements will be widened making it more comfortable for pedestrians. Muelle de Heredia will absorb most of the redirected traffic as well as the taxi rank.
The works are expected to take approximately one year to complete and will not be limited simply to the pedestrianisation but also to build a fountain on Calle Cañon, improving the lighting, the planting of 56 orange trees and  eight palm trees, the restoration of the statue of cardinal Herrera Oria and the renovation of a lot of the street furniture in order to fit in with the new designs.
Approximately €4.6 million will be spent on the project with the tourism board paying around 60 per cent and Malaga council around 40 per cent.