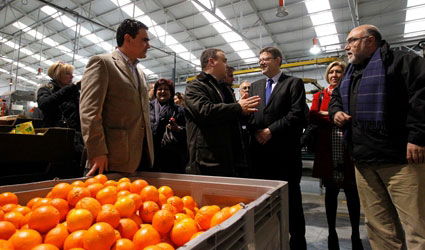 ALFAZ DEL PI'S mayor called for more official help for Marina Baja's agricultural sector.
During such complicated times the government should be supporting local growers, Vicente Arques maintained during a visit to the Callosa d'En Sarria cooperative.
Agriculture is enormously important for the local economy, said Arques in his double role of mayor and regional MP.  The cooperative's 1,500 members produce an annual 40 million kilos of citrus fruit, avocados and nisperos, he pointed out.
Nispero production counted for 16 million kilos of the total, and the Designated Origin (DO) fruit contributed 60 per cent of the area's GDP last year.  Jobs created by nispero-growing alone were sufficient motive for more official help, Arques argued.
Cooperative members were worried by "asphyxiating" taxes, he said.
Competition and low prices meant that a kilo of oranges now costs less than a single cigarette, making it increasingly difficult to sustain production. 
A reduction in the IRPF income tax and more assistance from the national and regional governments would go a long way towards helping the area's growers, Arques said.