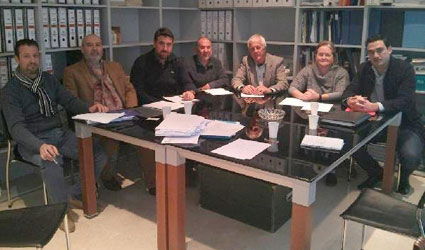 RESIDENTS of Zurgena affected by the illegal homes met Town Hall representatives for what was considered a fruitful meeting.
The meeting took place after the news broke of building licences being anulled in the town.
In the meeting the Mayor, Luis Diaz, informed the AUAN home owners' association of his "wish to count on the support of those affected" whilst trying to come up with solutions for the planning problems in Zurgena given that "it affects everyone." '
"Our collaboration with associations, those affected and with the British community in general is important in finding solutions to this problem," explained the mayor. For their part AUAN 'welcomed the attitude' of the town council. "It was a constructive meeting" said their president, Maura Hillen, adding that "we hope that this means the start of a collaboration in areas of mutual interest, given that the Junta de Andalucía only seems to be interested in knocking down houses occupied by owners who bought them in good faith. That is something which neither we nor the Mayor of Zurgena thinks is right."
During the meeting, AUAN emphasised the need to ensure that those affected by ongoing proceedings "get to know about those proceedings so that they can defend their interests." Regarding this request, the Mayor indicated that "he understood this need" and he promised to "do everything legally possible to promote dialogue and transparency." Both parties hoped that this meeting "will be the first in a series of future meetings."
Regarding planning issues in general in Zurgena, the chief representative of the AUAN indicated that some feel "that the Junta de Andalucia has Zurgena in its sights in an excessive way compared with other municipalities. The courts will decide if this is the case.  Meanwhile, Zurgena cannot be allowed to remain in a state of suspended animation, solutions must be found."
 Zurgena council advised recently that it is 'working' on the approval of its PGOU development plan, and on the 'recognition' of its neighbourhoods.