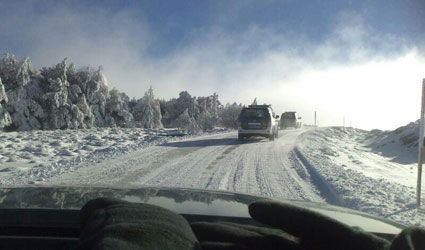 THE Guardia Civil came to the rescue of a father and his 11 year old son early on Monday morning after they had spent the night trapped by a heavy snow storm in the Sierra de Los Filabres.A fierce snow storm on Sunday afternoon close to Calar Alto took the pair by surprise and they soon found themselves cut off from civilisation.
Both were found in good health after they had abandoned their car and took refuge in a nearby farmhouse where they managed to build a fire for the night. The massive search operation involving 18 agents and a helicopter along with Environmental Agents began  at 7pm on Sunday evening when operators at the  Central Operational Service of the Guardia Civil in Almeria received a call from the 112  Emergency Services informing them that a  Tíjola resident and his 11 year old son had been trapped because of the snow.
 Repeated attempts to contact the mobile phone,  allowed the Guardia Civil agents to talk and reassure the pair, while providing vital information to pinpoint their location. The search team worked through the night and was  reinforced at daybreak, which paid off when the crew of the helicopter service of the Guardia Civil  located both in the area known as Sierra Carrasco, where father and son were found safe and sound.