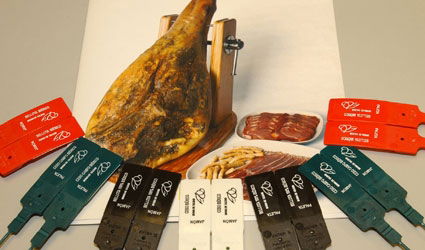 THE Spanish government has passed a regulation to better inform customers about the quality of the Serrano ham they buy.
From now on there will be only three designations for this food.
These are Jamon de bellota (coming from acorn-fed pigs), Jamon de cebo de campo (coming from pigs fed with natural fodder) and Jamon de cebo (coming from pigs fed with fodder).
This will be shown by labels: red, green and white respectively.
The labelling will also tell customers the purity of the pig breed used to make the Serrano ham.
In that sense, a 'pata negra' or black hoof label will be strictly used to designate pigs 100 per cent of the Iberian breed that have been fed with acorns.
This measure aims at helping the Serrano ham sector which, according to breeders, is facing a difficult situation.
In Spain, 85 per cent of the Serrano hams consumed come from mixed-breed pigs, which are sold at a more affordable price.
According to official data, in 2011 more than 4 million pieces of Serrano ham coming from pigs fed with fodder were sold in Spain, as opposed to the 65,000 'pata negra' Serrano hams sold.