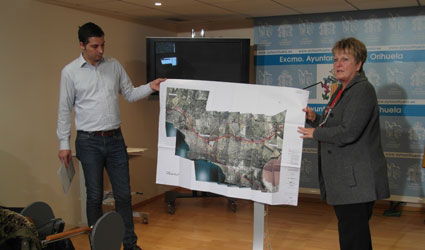 PLANS to close two roads at the La Zenia roundabout have been shelved.
Following last week's front page story about businesses and residents in uproar at the Ministry of Public Works' plans to close off Calle Maestro Torralba and Calle Alhambra, further meetings have been held and the closures called off.
Orihuela's Councillor for the Coast, Martina Scheurer and Councillor for Urbanism, Antonio Zapata, travelled to Alicante to protest the plans and was joined by a lawyer specialising in road issues representing the residents.
Hazel Connor, owner of Paddy's Point, who had been instrumental in getting the community together to make them aware of the plans said the news was a welcome relief: "It is very positive and a big weight lifted from our shoulders. Our lawyer said it was a very long and tense meeting and the two councillors could not have fought our case harder or done any more."
The issue has brought together the multi-national community and united businesses and Hazel said they are now in the process of forming a legal association to represent and fight for the rights of locals.
Orihuela's Coastal and Planning Departments are now proposing to the Ministry alternatives to the closure. Among their ideas are to remove the tolls on the AP-7 motorway at La Zenia which they say would encourage its use, and to build a new roundabout giving easier access to the Zenia Boulevard, easing traffic on the N-332 La Zenia roundabout.  Zapata also commented on car parking causing congestion and proposes removing 15-20 spaces.
Meanwhile Pedro Mancebo from CLR is also inviting suggestions from residents through the website www.clr-orihuelacosta.com