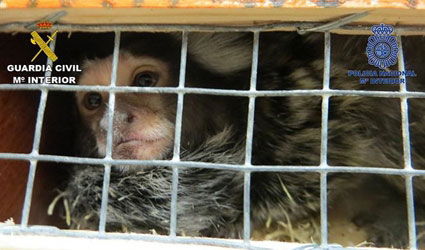 A COMPLAINT of theft led police to the recovery of several exotic animals that were stolen in Palma between May and December 2013.
Four men have been arrested as a consequence, and the man who lodged the complaint has been charged for buying stolen animals.
The authorities managed to free the animals, which were being kept in unsanitary conditions in unsuitable cages, after a man reported a gunpoint theft to National Police.
He claimed the men had stolen a safe from his home for apparently not paying for a titi monkey he bought from them.
This led National Police to cooperate with the Guardia Civil, eventually identifying the men and arresting them.
Guardia Civil were investigating the theft of several exotic animals, including titi monkeys, macaws, cockatoos, owls and parrots from a local animal protection centre.
The animals recovered, two macaws and two titi monkeys, had a value in the market of between €800 and €2,500 each.