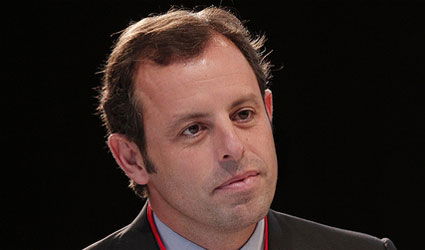 Sandro Rosell has resigned as president of FC Barcelona following accusations of misappropriation of funds linked with Neymar's transfer fee from Santos.  Rosell will be replaced by vice president, Josep Maria Bartomeu.
Allegations were recently made by a Barcelona club member that Neymar's transfer fee in June 2013 was far more than the €57 million official figure.
Rosell insists that they had acted correctly with the Neymar transfer. During a press conference to announce his resignation, he said ""For some time my family and myself have suffered threats and attacks in silence. These threats and attacks have made me wonder if being president means having to jeopardise my family.
"In recent days an unfair and reckless accusation of misappropriation has resulted in a lawsuit against me in the Audiencia Nacional. From the beginning I have said that the signing of Neymar Junior has been correct and his signing has caused despair and envy in some of our adversaries.
"The right of the club members to be informed needs to be compatible with the defence of the club and confidentiality of certain matters and facts. This confidentiality is essential in the world of football because otherwise the club could be damaged.
"The board of directors is a team. And this team leads a project that has brought the club great success. I don't want unfair attacks to negatively affect their management or the image of the club. This is why I think my time here has come to an end.
"Now, in accordance with the club's statutes, I have presented my irrevocable resignation of the presidency of FC Barcelona to the board of directors.
"It has been an honour to serve the Barcelonistas. It's been a privilege to be the president of FC Barcelona."
Rosell took over from Joan Laporta as president of the football club in summer 2010