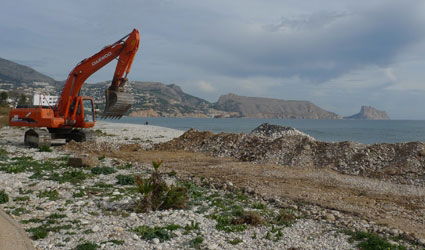 REMODELLING Altea's seafront and shoreline has begun.
The Charco, the smelly artificial lagoon separating the paseo from the sea will soon be no more.
Built in the late 70s to protect the seafront from the constant battering of waves, the lagoon served its purpose but stagnated even after openings were made to allow more seawater to enter. 
The smell was often unbearable during the summer and generated endless complaints from seafront business owners.
Diggers are also at work on the town side of the Algar rivermouth, completing the first phases of a 30 to 40-metre wide beach stretching from the river to the port.
"This is the project that Alteanos most want," said mayor Miguel Ortiz.  "We succeeded in having the old town declared an Asset of Cultural Interest (BIC) and now we are achieving our second goal of remodelling the seafront."
The €4.4 million project has received funding from the EU's FEDER regional development funds and will take 24 months to complete.