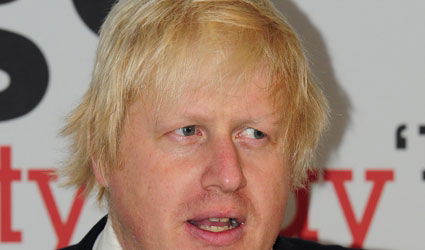 Water, water everywhere
WATER cannons are all the rage. 
Boris Johnson and the Metropolitan police want them, although in the past their use was limited to Northern Ireland. 
In Spain they have not been used for years, although Interior minister Jorge Fernandez Diaz recently fitted up the Policia Nacional with a nice new €408,000 model. 
The London mayor was warned that using water cannon is a step nearer to stifling the democratic right to protest.
Johnson's reaction was not revealed, but stifling the democratic right to protest is just up Fernandez Diaz's street since his Public Safety Law is actually the Government Safety Law.
If it ain't broke…
A RECENT poll revealed that 80 per cent of Spain's population do not back Alberto Ruiz-Gallardon's harsh and misogynist reforms to the 2010 abortion law.
Mariano Rajoy repeatedly reminds critics that reform was set out in his election programme.  So it was, although the PP gave the impression that it would only reverse the right of girls aged between 16 and 18 to terminate without parental consent.
Government sources admit there could be modifications although there will be no "substantial changes" according to Ruiz-Gallardon.
In its present form it has certainly pleased hard-core right-wing PP voters who will theoretically turn out in force for the May Euro-elections.  Ruiz-Gallardon's law will subsequently be amended sufficiently to silence critics within the PP itself, keeping everybody happy.
This might work but only if the 80 per cent who do not like the new law stay at home in May. 
Rajoy has the reputation of a wily Gallego but he could still shoot himself in the foot by fixing what ain't broke.
Retrospective justice
THE general amnesty granted in 1977 is brandished as a cast-iron reason for not pursuing crimes committed during Franco's time.
Spain can therefore turn deaf ears to UN requests to cooperate with an Argentinean enquiry into torture allegations against Jose Antonio Pacheco – aka Billy the Kid – and Jesus Muñecas during the dictatorship's last years.
Parallel to this, judge Ismael Moreno accused China's leaders of genocide in Tibet and wants to question them.
All very worthy, but he knows and we know and the Chinese know that nothing is ever going to come of it.  Lamentably, the same could be said for the Argentinean investigation.
No privileges
PRINCESS CRISTINA has agreed to appear before the judge investigating her husband's business concerns.
This was a wiser move than the royals' damagingly unwise reaction last year.  The Zarzuela Palace expressed "surprise" at an earlier summons from judge Castro which was cancelled after a successful appeal from the princess. 
No-one with a daughter married to the principal player in a multimillion corruption scandal should express surprise if she is asked to give evidence.  Even, or especially, when her royal father has declared that everyone is equal before the law.