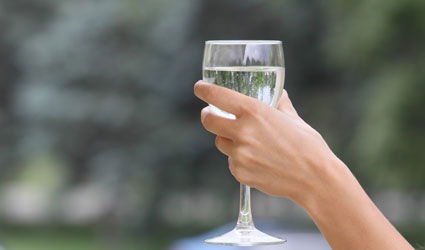 FRANK SINATRA famously commented that he felt sorry for people who didn't drink, because "when they wake up in the morning that's as good as they're going to feel all day." His comment feels particularly poignant this January, when hot on the heels of my first New Year's resolution (Spanish classes, as I mentioned in last week's Expat Strife) comes a dry, regenerating and exceedingly long month.
It's not as if I was going hell for leather in the drinking stakes over Christmas. No reenactment of Nicolas Cage's role in Leaving Las Vegas, vodka stashed in the shower; no spilling out of bars in a heaped mess in the madrugada (the word for wee small hours of the morning). It's more a case of constant glass in hand, readily topped up by hubby or other charming hosts. Rude not to! Still, I was starting to visualise my poor liver waving the white flag of surrender, so thought it best to add a month of abstinence to the list of resolutions.
And here we are. Tick, tock. No cheeky afternoon caña in the local – even though a Spanish friend assures me this does not even qualify as an alcoholic drink. No warming Rioja in front of the fireplace on a Friday evening as a reward for a week well accomplished. And forget the Sunday Brunch Bloody Mary. Even the lauded health benefits now seem tenuous – I feel no massive spurt of energy or inclination to climb Sierra Nevada.
Wise friends inform me that it is all government (UK, rather than Spain, on this occasion) propaganda to ease the burden on the National Health Service and that we do not in fact live longer by cutting the booze but it certainly feels that way. I am starting to think they have a valid point. I am ticking off a lot of chores on my 'to do list', but is it adding to feelings of joy and contentment? Debatable.
It's just that the harsh edges of real life seem just a bit smoother after a glass of wine with the roast, not to mention that culturally, in Spain, the meal doesn't seem complete in its absence. Fortunately, February is now within striking distance and my liver must surely be like a new born baby's. The only question is what will it be on the first day of next month? Permanent teetotalism or a soupçon of 2004 Cune Imperial – the Riojan winner of the 2013 International Wine Challenge. I wonder…