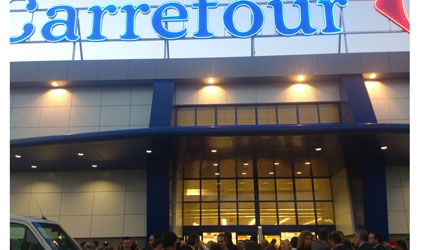 A NEW Carrefour hypermarket opened in Mijas today.
The old Euromarket – once one of the most famous mnsupermarkets on the Costa del Sol- has been transformed after a major refurbishment into a sparkling new hypermarket.
It has been opened by Costasol, a Carrefour franchisee.
The 207 new direct hires, including more than 100 people that Costasol took on from the from the previous company, received 1,500 hours of theory and practical training over six months in the hypermarkets that Carrefour has in Malaga: Los Patios, Alameda and Rosaleda; and in Rincon de la Victoria, Estepona and Torremolinos.
As Juan Antonio Merino, the Manager of Carrefour Mijas, stated "these training courses reflect the company's commitment to respond to the learning needs of our future employees. In addition to acquiring the necessary knowledge to carry out each job, other subjects are included such as prevention, quality, best practices, customer service and environmental savings".
With the opening of this centre, Costasol de Hipermercados, S.L., a commercial distribution company in Malaga, and Carrefour have created 360 direct and indirect jobs to service Malaga province. Innovations include an oriental food stand, a parapharmacy with personalized customer service and, most importantly, the widest selection of international products available in Andalucia. The majority of the workforce comes from Mijas and nearby towns.