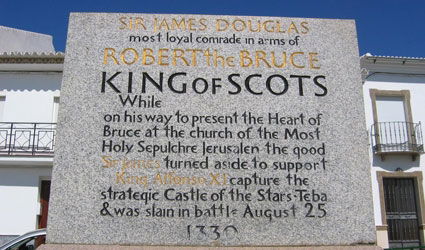 BURNS NIGHT is this weekend, and throughout Spain, many expats will be celebrating the life and works of the 18th century Scottish poet, Robert Burns.
Spain has an interesting history and has been influenced by the presence of many different cultures, leaving the landscape dotted with archaeological remains from all eras.
Few may know it, but down in Malaga province, Spain has its own Scottish connection.
In the small town of Teba, with fewer than 5,000 inhabitants, after ascending through the narrow, winding streets visitors will find the ruins of a castle which has an amazing legend.
Before he died in 1329, Robert the Bruce, King of Scots, requested that Sir James Douglas, his most esteemed companion in arms, take his embalmed heart to the Holy Land in a silver casket which Douglas carried around his neck.
In 1330, Douglas, also known as Guid Sir James or Black Douglas, set sail with six other knights and 26 squires, and heard of Alfonso XI of Castilla's crusade against the Muslims, so they travelled to Al-Andalus to join him.
On the morning of August 25, 1330, the Nasrid army assembled near the Castillo de la Estrella, which was in their possession. The battle began and Scottish knights charged the Moorish soldiers. The Castillians won the battle and the Moors fled.
Douglas followed them, but they turned and he was outnumbered and died that day.
The Moorish king, Muhammad IV of Granada, found the body and casket on the field, and realising who the knight was, sent them to Alfonso's army with a guard of honour.
They were returned to Scotland, and Douglas' remains were deposited in his family vault at St Bride's Church and the heart of Bruce interred at Melrose Abbey.
Every year in Teba, an event is held in August to commemorate these historic events.