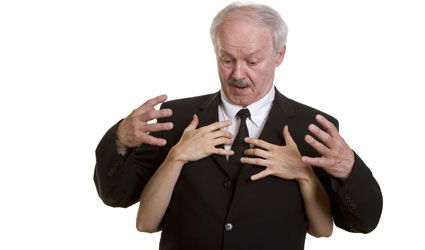 I DUNNO, all these celebrity sex cases this week seem positively surreal. Page after page, headline after headline, firmly knocking nails into the coffin lids of household names and their careers – whether ultimately found guilty or not.
There really is something about it all that has a vague whiff of unfairness and indeed a certain injustice. Many of these women's complaints are really nothing more than could be expected on a rowdy weekend night in the local boozer. 'I felt his hand on my bum.' 'He brushed his hands against my breast.' I know , I know; before all you gals start self-righteous screaming, I do understand that any unwelcome sexual advances are out of order and some of the accusations in these cases are very serious indeed, but some are also a load of indignant twaddle.
What about the boot being on the other foot? Over the years, I myself have been 'sexually assaulted'. I've been groped, had my behind squeezed, received obscene suggestions in public, and experienced the occasional very serious grope to my nether regions. Most of these experiences have been accompanied by whoops and catcalls by whatever group of women the perpetrator was out with for the night.
You don't see me rushing to the Old Bill. Don't get me wrong, I certainly don't enjoy it. In fact I find someone grabbing your proverbial in public pretty demeaning and do recall a couple that were quite painful! But then I'm a bloke. I can hear the sniggering and the 'you should be so lucky's' from here.
There lays the problem. If I lodged a complaint with the police I probably wouldn't even get it past the front desk. 'Hey Sarge', there's a bloke here complaining he's been groped by some bird. Wot shall I do with him?' 'Ha ha! Tell him he should be so lucky and send him on his way'. If he keeps on nick him for wasting police time'. Different attitude ya see. I dunno; whatever the outcome of these cases something about it all just doesn't seem quite right.
Just had quite a 'brisk' exchange on FB with a number of folk who still believe the McCanns are guilty of their daughter's disappearance. Well, all I can say is that this opinion sits alongside the beliefs of those who belong to the flat earth society. For somebody who has been completely exonerated from a crime to do everything in their power to keep the offence as high profile and fresh in the public's minds as possible – for years – must be either demented or not guilty. Well these two, obviously highly intelligent, tragic parents are most certainly not demented. Give us a break.
And that's about it, apart from wishing my lovely daughter Charlene a very happy birthday and loads of love from a proud new Granddad.
Keep the faith.
Love Leapy  leapylee2002@gmail.com
XXXXXXXXXX LETTERS TO LEAPY XXXXXXXXXXXX
Close minded
I LOVED Leapy's article 'Missing global-warming conmen' (Issue 1489). The majority of people will not believe that only a handful of people run our planet. The majority I call sheep, and are so close minded it's not even worth trying to explain.
I'm just waiting for the so called global warming experts to tell governments they need to tax humans for breathing, as we breath out carbon dioxide and that surely must be contributing to global warming.
WAKE UP PEOPLE.
C B (By email)
Fear so…
WE are at the mercy of a few multi-trillionaires running the world according to Leapy. Once I would have called him paranoid, but to be honest after the global financial recession, I fear he is right.
Alistair Redmond(By email)